This feature is

being rolled out

to a limited number of clients

during the first year

. If you are interested in learning more about it, please visit our website.
The following table shows which role is able to perform which actions in CtrlPrint Integrate. 
You do not need to be an Admin, or have any special permissions, to add a new file for CtrlPrint Integrate if you have access to the project.
Comparison of User Roles for CtrlPrint Integrate

Tasks
Administrator 
Owner 
Editor
Viewer
Activate CtrlPrint Integrate 
X
 
 
 
Manage Permissions
X
X
 
 
Transfer Ownership
X
X
 
 
Remove Access
X
X
 
 
Delete data source
X
X
 
 
Edit data source Information
X
X
X
 
Manage Versions
 
X
X
 
Download Data Sources and previous versions
 
X
X
X
View tables and add them in InDesign/InCopy (InDesign/InCopy Permissions needed)
 
X
X
X
Refresh tables in InDesign/InCopy once a new version of the file is uploaded (InDesign/InCopy Permissions needed)
 
X
X
X
Manage Permissions
File Owners and Administrators can share and manage permissions. 

To share the data source with another project user, click on Manage Permissions and search for project users in the search box (as shown in image below). You can give Editor or Viewer permissions to the users.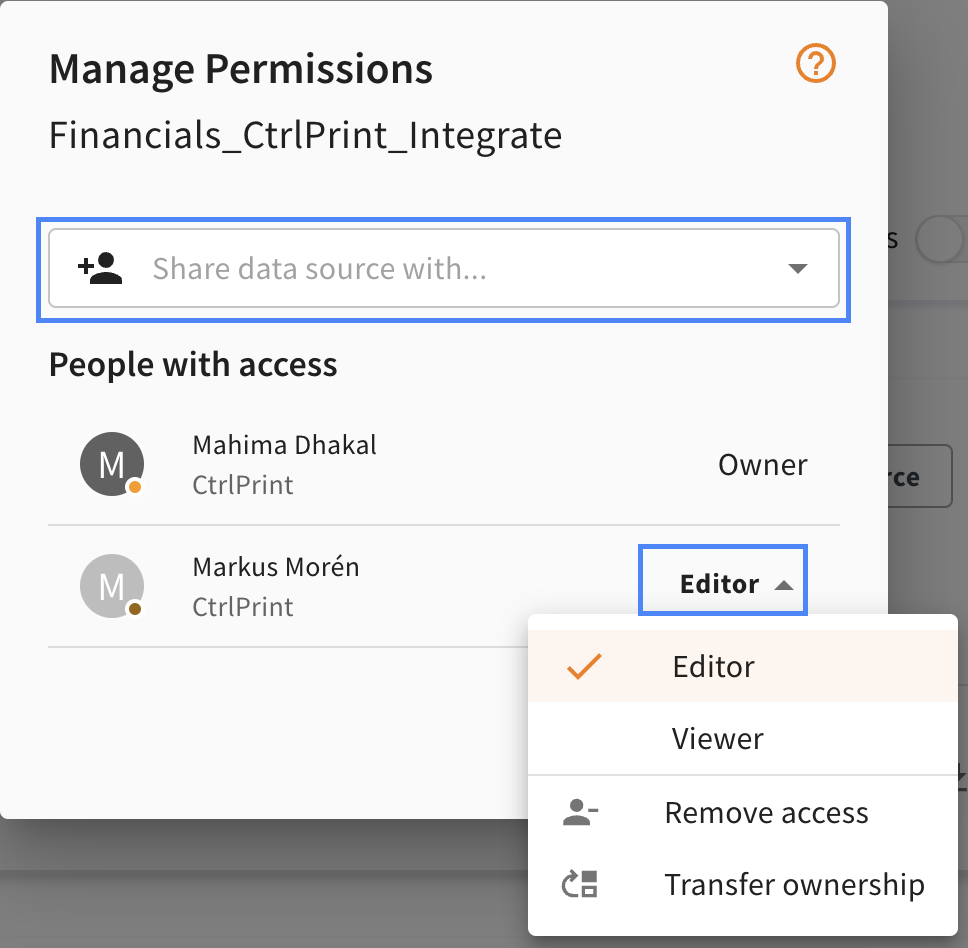 If you want to modify user permissions, remove access or transfer ownership, you can find users with access in the People with access list. Click the permission next to their name to modify their permissions.