Information about using TrackChanges can be found here.
1. I cannot see any TrackChanges markings onscreen.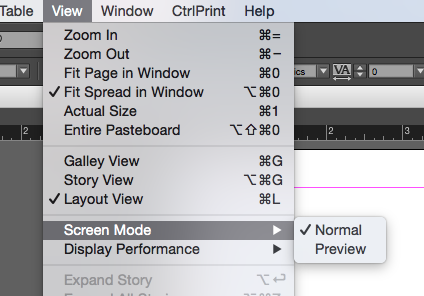 Make sure that TrackChanges is active. If the options found beneath the "CtrlPrint" menu in InCopy/InDesign are available and then TrackChanges is active.)


Check that you have the "Screen Mode" set to "Normal". (In "preview" mode the document appears as it would in print, with no markings.) "Screen Mode" is found beneath the "View" menu.
2. I cannot accept or reject changes.
An administrator must first enable your ability to accept changes before you can do so. If you need the ability to accept/reject changes contact an administrator for help. More information about accepting changes can be found
here
.
3. How do I accept all of the changes made in a document that is no longer in CtrlPrint?
It is important to accept all changes in a document that has previously been used with CtrlPrint. Remember that changes are still tracked and present in the document even if they cannot be seen.
To accept the changes in a document that is no longer being used with CtrlPrint select the "CtrlChanges" palette from the "Window" menu in InDesign. In the top right corner of the palette there is an icon indicating an extra menu (See image below). In this menu select "Accept All Changes In Document..." 
4. Can I change the color I was given?
Open the "Team" menu on the "CtrlPrint" web portal and select "Change user information". There you will find an option for changing the color assigned to you for TrackChanges.
5. Can I print a summary of just the changes that have been made?
Unfortunately this is not currently possible.