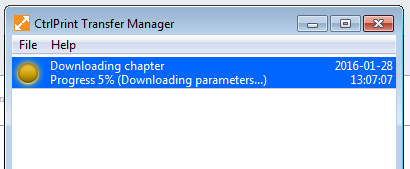 The Failed to unzip "____.zip" error and Transfer Manager quitting when trying to download a chapter are both caused by local network/security settings. Please use the steps below to resolve.
Please be aware that Internet Explorer is no longer supported by CtrlPrint. Try using a different browser, like Microsoft Edge or Chrome, to see if this resolves this issue.
This error is usually due to your local security settings, firewall, proxy etc. You will probably need the assistance of your IT department to resolve this.
Whitelist *.ctrlprint.net.
TransferManager.exe and InDesign.exe or InCopy.exe must be allowed access to *.ctrlprint.net. All communication is done using HTTP GET and POST via HTTPS (port 443).
CtrlPrint does not currently support automatic configuration via PAC or WPAD. Proxy settings must be defined at the Operating System level (Start -> Settings -> Control Panel -> Internet Options -> Connections -> LAN Settings -> Proxy Server).
CtrlPrint supports HTTP, SOCKS4 and SOCKS5 proxy.
CtrlPrint supports Anonymous, Basic, Digest and NTLM authentication.
We do not support TLS 1.0 or 1.1 for security reasons. You will need to use TLS 1.2 or higher.
If network settings are correct, you can try reinstalling Transfer Manager.