We recommend 2020 (v 15) for projects beginning Summer 2020 and ending Spring 2021. We recommend
2021 (v 16)
for projects starting from Spring 2021 and ending Spring 2022.
If you are trying to install InCopy 2020 on an M1 Mac please see this
page
.
Step 1: Adobe Creative Cloud
To install Adobe InCopy 2020 (v 15) you must have a Creative Cloud account with a paid subscription for InCopy and the Creative Cloud Desktop App. Your Creative Cloud account will be managed by someone in your organisation. If you are not sure about your login credentials for Adobe Creative Cloud, please contact your IT department. The "Creative Cloud Desktop App" can be downloaded here.
Step 2: CtrlPrint Transfer Manager
IMPORTANT: Make sure your version of Transfer Manager is up to date.
See the links for installing and updating Transfer Manager here.
Step 3: Downloading InCopy 2020
1. Once the Creative Cloud Desktop App is open locate InCopy in the All apps section. You must use the Creative Cloud Desktop App as the Other Versions option is not available from the Creative Cloud website.
2. Click on the three dots to the far right of the listing for InCopy and choose Other versions:



If your option looks like the image below, do not use the Install/Download button. Use the three dots to choose Other versions as seen above.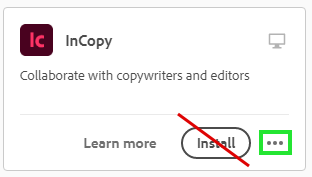 NOTE: If the download option is labelled "Try" it is because you are not logged in with an Adobe account with an active subscription for InCopy. You can still install InCopy as a free trial for 7 days, however after this time has expired you will need a subscription.


3. Click the Install option for the application called InCopy (15.1.2). Do not install version 16.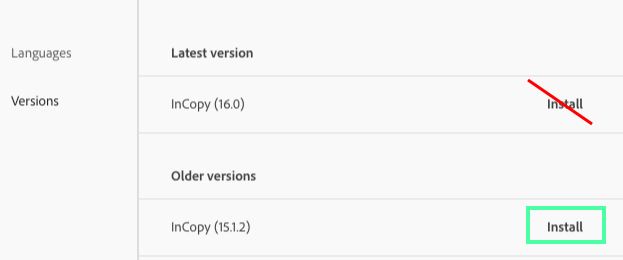 4. InCopy 2020 (v.15) will now install.