To install Adobe InCopy CC2020 (which is version 15) you will need a Creative Cloud account (with a paid subscription for InCopy) as well as the "Creative Cloud Desktop App". For more information about Creative Cloud licensing please see the information here. The "Creative Cloud Desktop App" can be downloaded here.
IMPORTANT: You must have CtrlPrint Transfer Manager v1.4 to use CC2020. See the links for installing and updating Transfer Manager here.
If you are using Adobe's Creative Cloud Packager for installing CC2020 please use the instructions here.
1. Once the "Creative Cloud Desktop App" is open locate InCopy. Click on the Install button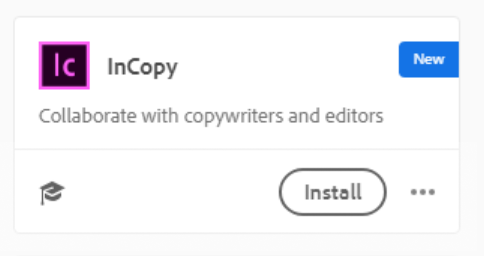 2. InCopy CC2020 (v 15) will now install.
If the download option is labelled "Try" it is because you are not logged in with an Adobe account with an active subscription for InCopy. You can still install InCopy as a free trial for 7 days, however after this time has expired you will need a subscription.