If your InDesign document has been prepared according to our CtrlPrint Frames instructions you are able to textblock tag in an easier way. CtrlPrint Frames also makes it more reliable to restore tags when a chapter's content or design changes.
Important note: Once the ESEF Reporting functionality has been activated, an InDesign user MUST create a new chapter version of the relevant chapters to make Frames visible in the Tagger.
How to tag with CtrlPrint Frames?
Select the CtrlPrint Frames layer in the Tagger.



Find the tag you want to use in the XBRL Taxonomy explorer.



Drag and drop the tag onto the frame in the Tagger.


Continuations
When carrying out text block tagging, you can carry out a continuation if text is on other pages. If the frame is part of a text-thread you can drop the tag on any frame in the thread and the continuation will be applied automatically in the order of the text-thread. Please bear in mind that continuations must all be in the same layer or else you will receive a warning dialogue as displayed below.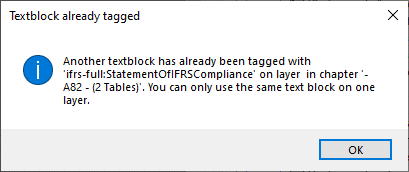 Exporting an XBRL report from CtrlPrint will merge your continuations between the different chapters.